We're here to provide industry-defining advice on sleep & recovery
The Sleep Shop – Our Story
The Sleep Shop was established to help customers choose the right mattress, to benefit their well-being and overall health.
Purchasing a mattress can be confusing and overwhelming for many customers. Our function is to keep it simple, no gimmicks or marketing jargon, just Great Mattresses, Great Prices.
Our inspiration comes from extensive research and listening to our customers over the last 20 years.
We have a mattress for everyone and provide a Free fitting service in our Athlone bed store and available by virtual appointment online. A range of pillows and duvets are available to complement the right mattress.
Many Irish Ruby Internationals now sleep on one of our mattresses and pillows. We work closely with players to find suitable products offering both comfort and support. Sleep plays a vital role in their recovery
and fitness level.
Recently we sponsored Victoria Evans as attempts to break the Guinness World Record for a woman, to solo row across the Atlantic. We have supplied her with a new mattress and sleep
wear to make her journey a more comfortable one, fingers crossed she achieves her goal.
 Because Sleep Matters
Blog posts
Improving your overall well-being begins with good sleep. Not only does quality rest improve our performance, but also strengthens our immunity and relieves stress. Considering we spend a third of our lives in bed, a comfy mattress is a must. However, with so many mattresses around, it's easy to miss the mark. So, how can you choose the perfect one? Why not start by checking out our buying guide for the best mattresses in Ireland? We'll show you how to choose a model that fits your requirements, preferences, and budget.
Experts suggest getting a new mattress every 8-10 years. If your current mattress is causing you back or joint pain, sags uncomfortably, or has simply seen better days, it's probably time for an upgrade. Do you feel that the shopping process might be too overwhelming? Fear not! We're going to walk you through all the things to consider when you're looking for the best mattresses in Ireland.
Mattress Sizes
The first step is selecting the right mattress size for your bedroom and sleeping habits. The standard mattress sizes available in Ireland are:
Single (3' x 6'3") 90cm x 190cm;
Small Double (3'11 x 6'2") 120cm x 190cm;
Double (4'6 x 6'3") 135cm x 190cm;
King (5' x 6'6") 150cm x 200cm;
Super King (6' x 6'6") 180cm x 200cm.
Here, you should consider how much personal sleeping space you'd like to have and the dimensions of your bedroom. Couples usually prefer King or Super King, while singles and kids are okay with Singles and Small Doubles. Needless to say, before purchasing a new mattress, you need to measure your bedroom and existing bed frame to ensure it will fit the space.
Mattress Firmness
The next critical factor you need to take into consideration is mattress firmness Your comfort will depend on it. Softer mattresses provide more contouring and pressure relief, while firmer options offer enhanced support. Are you a side sleeper? Then you should take a closer look at softer mattresses. It is because they cradle hips and shoulders, thus reducing pressure points. Do you prefer to sleep on the back or stomach? In this case, firmer mattresses, which provide even spinal alignment, will be more beneficial.
Soft Mattresses
Best for side and light sleepers who tend to move in their sleep. They are also a great choice for those who want to sleep in the mattress as opposed to sleeping on the mattress.
Good contouring paired with pressure relief;
Reduce pressure on the shoulder and hip areas;
Great for light sleepers who need that extra comfort to fall asleep.
Medium Soft Mattresses
They are a great option for most sleepers and a no-brainer for couples who both want different levels of comfort. We call them the compromise mattresses.
Ideal for side sleepers;
Pocket sprung versions provide good spine alignment;
Not too soft, not too firm – a compromise solution for couples.
Firm Mattresses
Because they don't sink in, firm mattresses are ideal for back and stomach sleepers. They are also a preferred choice for people who suffer from back pain.
Keep the spine aligned;
Prevent the pelvic area from dipping;
Very supportive with no sagging at all;
Comfortable for heavier sleepers.
Still not sure what mattress is best for you? It is a good idea to test out a mattress in person to determine your ideal comfort level. Lay on a mattress you'd like to purchase in your typical sleeping position for at least a few minutes to understand how it truly feels.
Mattress Types
Along with size and firmness, the mattress type plays a key role in sleep quality as well as joint and back pain relief. Here is an overview of the best mattresses in Ireland in terms of their construction:
Bonnell Spring Mattresses
Otherwise known as open coil mattresses, these are some of the cheapest options around. Inside, they have a single continuous coil responsible for support, as well as a padding layer for cushioning. Such a design comes with a number of drawbacks, namely increased motion transfer and noise. Most importantly, Bonnell spring mattresses tend to sag and lose support when used regularly. We recommend them only for spare rooms and rental accommodations.
Increased motion disturbance;
Can be noisy;
Provide little to no support;
Reduced durability since they tend to become saggy over time.
Pocket Sprung Mattresses
These models provide excellent motion isolation as each pocket sprung is individually encased to operate independently. This results in minimal partner disturbance.
Individual pocket sprung units adjust to body shape and sleeping position;
Reduced partner disturbance since weight is distributed across individual springs;
Allow more consistent support and firmness across the mattress;
Complete body support while you sleep.
Memory Foam Mattresses
Memory foam conforms closely to the body to relieve pressure points. While using this type of mattress, it feels contouring rather than bouncy. Moreover, memory foam is great at absorbing motion. On the downside, they can lead to heat build-up. That being said, plant-based and gel-infused options feel cooler.
Pros:
Excellent pressure relief and contouring;
Great motion isolation;
Work well for side sleepers;
Available in a range of firmness levels;
Less bouncy.
Hybrid Mattresses
Some of the best mattresses in Ireland have the best of both worlds. The Sleep Shop hybrid mattresses combine pocket-sprung support systems with latex or high-density foam to provide sleepers with great comfort and support. Such a design results in a number of benefits, namely, responsive support and pressure relief.
Pocket sprung foundation provides great support;
Foam layers contour to the body;
Promote airflow;
Excellent durability;
All our mattresses have edge-to-edge support.
Latex Mattresses
Natural or synthetic latex feels springy and responsive. It contours to the body like memory foam but with added bounce. Apart from that, latex sleeps cool and is naturally antimicrobial. If you have allergies, natural latex is an excellent choice due to its hypoallergenic properties.
Great support with a slight bounce;
Naturally hypoallergenic;
Prevent heat build-up;
Good motion isolation;
Dense and quite durable.
Orthopaedic Mattresses
Designed to promote spinal alignment and ease pain, orthopaedic mattresses are typically firm with targeted support zones. Thanks to their construction, they help relieve pressure points, which makes them suitable for back and stomach sleepers. All our orthopaedic mattresses have edge-to-edge support to ensure great support. In addition, they provide an increased sleeping area with no sagging around the edges.
Designed to promote spinal alignment and correct posture;
Can provide targeted support to the back, hips, and shoulders;
Often made with firm materials offering stability and minimizing sagging;
Helpful for people with back pain, arthritis, injuries, or other conditions;
Provide increased support along the edges to make getting in and out easier;
How to Choose the Best Mattresses in Ireland
Now that you know more about the various types of mattresses, you can focus on the ones that really meet your needs. Still, there are a few more factors left that can affect your choice.
First and foremost, you should consider your body type. Lightweight people often prefer soft mattresses that allow more sinking in. At the same time, heavier individuals require the support of a firmer model to keep the spine aligned.
Additionally, your regular sleeping position plays a role. Do you prefer to sleep on the back? Then it is important that your spine remains straight. Hence, a medium-firm to firm mattress will help keep everything aligned. Are you a side sleeper instead? Then you can benefit from a softer surface providing pressure relief at the shoulders and hips.
Think about your personal preferences as well. Do you like sinking deeply into a mattress or floating lightly on top? Your answer will determine whether you'll benefit from contouring memory foam or buoyant latex. Also, you need to decide if you prefer bounce or motion isolation.
Last but not least, any medical conditions should factor into your decision. If you suffer from back pain, you'll do best on mattresses that cushion pressure points while supporting proper posture. For example, memory foam, latex, and orthopaedic options are excellent at easing aches and pains.
Where to Buy the Best Mattresses in Ireland
By keeping all these criteria in mind, you're sure to find your perfect match. Investing in the optimal mattress tailored to your body and sleep preferences will result in higher-quality sleep and waking up recharged.
Are you looking for the best mattresses in Ireland but not sure where to start? Look no further than The Sleep Shop! We're your ultimate destination for all things sleep-related. Our extensive selection of mattresses ensures you'll find the ideal mattress for your peaceful slumber. Contact us today to start your journey to better health. Our knowledgeable staff is here to walk you through all the options to help you discover that perfect match. Your path to the perfect night's rest begins with The Sleep Shop.
Mattresses of course are sold worldwide and sizes will vary between country to country. The sizes of mattresses are different in Europe compared to Ireland and the UK.
Choosing the right size when replacing your old mattress is very important so it fits your bed frame. More and more European bed frames are being sold in Ireland so be carefully when choosing the correct mattress size. The Sleep Shop Athlone is here to advice you.
For example, a standard UK and Ireland single is 90cm by 190cm, where a European single is 90cm by 200cm, so its longer and wouldn't fit a UK standard single bed frame.
At The Sleep Shop, our mattresses are available in both European sizes and Uk/Ireland sizes. You can see all sizes available on the chart below or if you need something bespoke please let us know at david@thesleepshiop.ie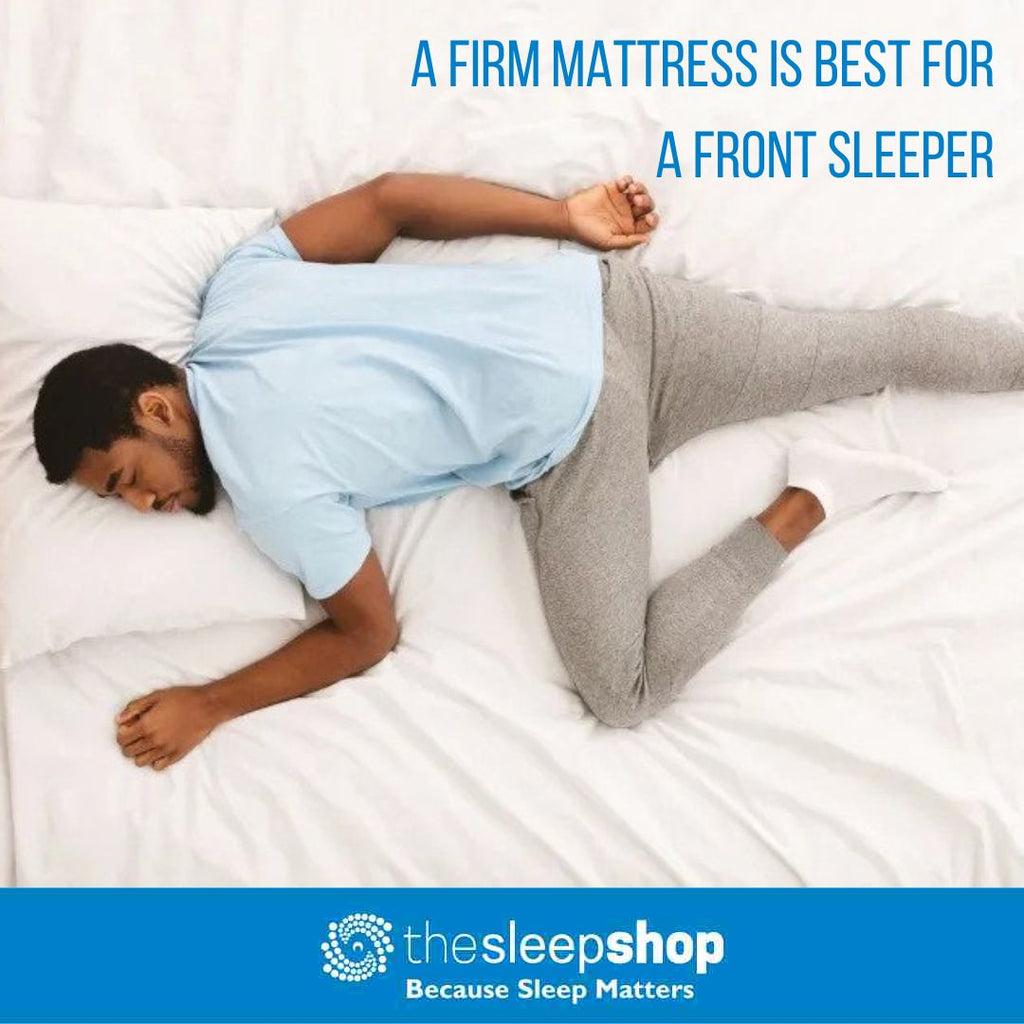 Sleeping on your front has huge drawbacks with many sleepers experiencing some type of pain. This position can place pressure on your lower back and neck if your mattress isn't providing enough support in the pelvic area or your pillow has to much loft. Our mattresses and pillows are the most comfortable available in Ireland
Sleeping on your stomach may reduce snoring or help reduce sleep apnoea issues but research has proven sleeping on your stomach is the worst position overall. We supply some of the best pillows in Ireland 
Front sleeping will place stress on your spine and in turn to other areas of the body. Unless you've somehow figured out how to breathe through your pillow, you have to turn your head to one side while sleeping on your stomach. That puts your head and spine out of alignment, twisting your neck. You will not notice the damage this will cause after one night of stomach sleeping, but over time problems will develop. The Sleep Shop mattresses will improve your posture and reduce stress ,improving your sleep. 
If you find it hard to change position, these are some tips to help make it more comfortable. 
Use a thin pillow:
The thinner your pillow is on the mattress the better, less loft on your neck or even better ,try sleeping with no pillow at all. The nearer your head is to the mattress, the less pressure you will feel. 
Stretch daily:
Stretching before bed and first thing in the morning when you rise will help you loosen up and stretch out your muscles. Soon we will be added yoga videos to our website which will provide some useful tips.
Place a pillow under your pelvis:
Similar to when you sleep on your back, keeping a pillow here will help with spinal alignment.
Keep your legs flat
Try to keep your legs as flat and as equal as possible. This should stop your spine from twisting relieving any strain.
Keep your body as aligned as possible
Relaxing your body in a neutral position. Place your hands along your side, make sure your lumbar spine and hips are straight, and your spine is not curved or twisted.
Sleeping on a firmer mattress is ideal for stomach sleepers and the pocket bio is a very suitable choice(please add link to product)
Call into The Sleep Shop Athlone for advice and view some of the best mattresses and pillows in Ireland
Because Sleep matters
Come and visit
Dublin Road, Ankers Bower, Athlone, Ireland
Mon - Fri, 10am - 6pm
Saturday, 10am - 6pm
Sunday, 1pm - 5pm
Directions