We're here to provide industry-defining advice on sleep & recovery
The Sleep Shop – Our Story
The Sleep Shop was established to help customers choose the right mattress, to benefit their well-being and overall health.
Purchasing a mattress can be confusing and overwhelming for many customers. Our function is to keep it simple, no gimmicks or marketing jargon, just Great Mattresses, Great Prices.
Our inspiration comes from extensive research and listening to our customers over the last 20 years.
We have a mattress for everyone and provide a Free fitting service in our Athlone bed store and available by virtual appointment online. A range of pillows and duvets are available to complement the right mattress.
Many Irish Ruby Internationals now sleep on one of our mattresses and pillows. We work closely with players to find suitable products offering both comfort and support. Sleep plays a vital role in their recovery
and fitness level.
Recently we sponsored Victoria Evans as attempts to break the Guinness World Record for a woman, to solo row across the Atlantic. We have supplied her with a new mattress and sleep
wear to make her journey a more comfortable one, fingers crossed she achieves her goal.
 Because Sleep Matters
Blog posts
Mattresses of course are sold worldwide and sizes will vary between country to country. The sizes of mattresses are different in Europe compared to Ireland and the UK.
Choosing the right size when replacing your old mattress is very important so it fits your bed frame. More and more European bed frames are being sold in Ireland so be carefully when choosing the correct mattress size. The Sleep Shop Athlone is here to advice you.
For example, a standard UK and Ireland single is 90cm by 190cm, where a European single is 90cm by 200cm, so its longer and wouldn't fit a UK standard single bed frame.
At The Sleep Shop, our mattresses are available in both European sizes and Uk/Ireland sizes. You can see all sizes available on the chart below or if you need something bespoke please let us know at david@thesleepshiop.ie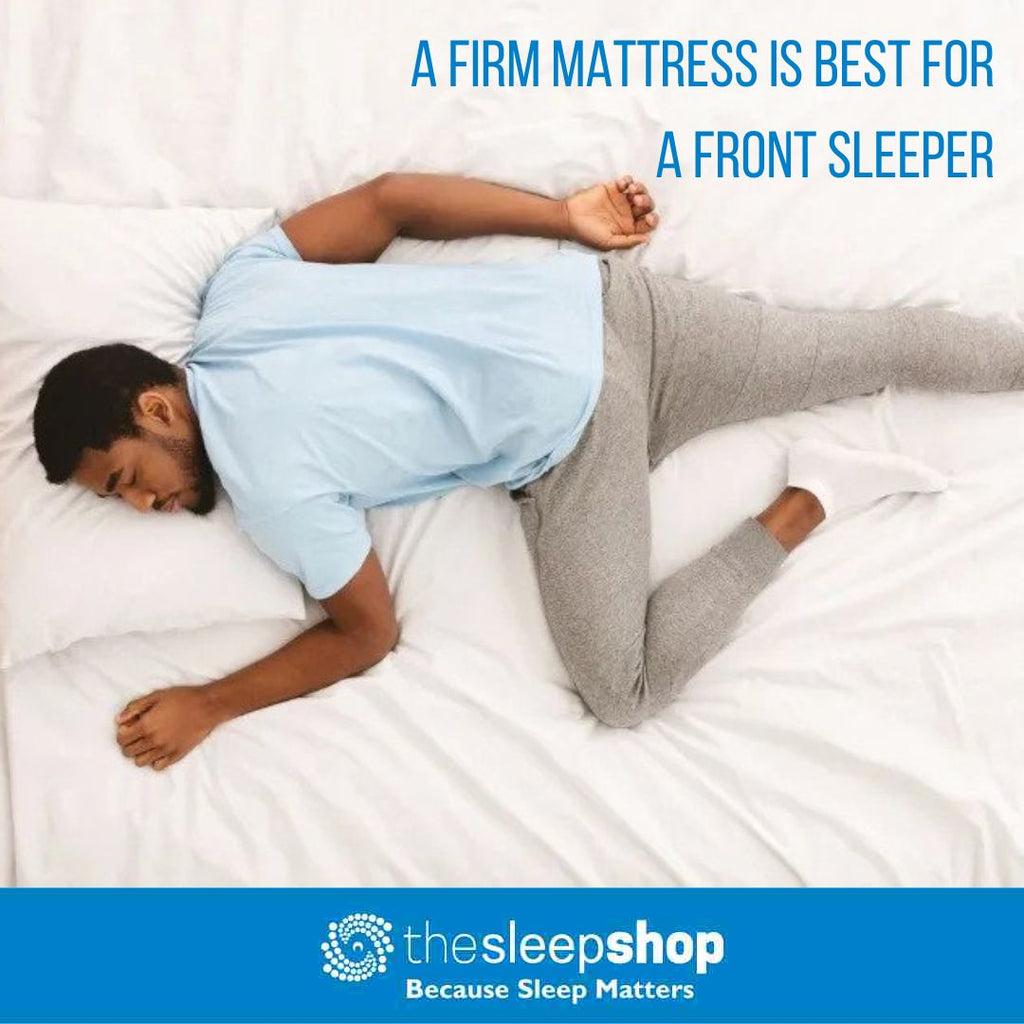 Sleeping on your front has huge drawbacks with many sleepers experiencing some type of pain. This position can place pressure on your lower back and neck if your mattress isn't providing enough support in the pelvic area or your pillow has to much loft. Our mattresses and pillows are the most comfortable available in Ireland
Sleeping on your stomach may reduce snoring or help reduce sleep apnoea issues but research has proven sleeping on your stomach is the worst position overall. We supply some of the best pillows in Ireland 
Front sleeping will place stress on your spine and in turn to other areas of the body. Unless you've somehow figured out how to breathe through your pillow, you have to turn your head to one side while sleeping on your stomach. That puts your head and spine out of alignment, twisting your neck. You will not notice the damage this will cause after one night of stomach sleeping, but over time problems will develop. The Sleep Shop mattresses will improve your posture and reduce stress ,improving your sleep. 
If you find it hard to change position, these are some tips to help make it more comfortable. 
Use a thin pillow:
The thinner your pillow is on the mattress the better, less loft on your neck or even better ,try sleeping with no pillow at all. The nearer your head is to the mattress, the less pressure you will feel. 
Stretch daily:
Stretching before bed and first thing in the morning when you rise will help you loosen up and stretch out your muscles. Soon we will be added yoga videos to our website which will provide some useful tips.
Place a pillow under your pelvis:
Similar to when you sleep on your back, keeping a pillow here will help with spinal alignment.
Keep your legs flat
Try to keep your legs as flat and as equal as possible. This should stop your spine from twisting relieving any strain.
Keep your body as aligned as possible
Relaxing your body in a neutral position. Place your hands along your side, make sure your lumbar spine and hips are straight, and your spine is not curved or twisted.
Sleeping on a firmer mattress is ideal for stomach sleepers and the pocket bio is a very suitable choice(please add link to product)
Call into The Sleep Shop Athlone for advice and view some of the best mattresses and pillows in Ireland
Because Sleep matters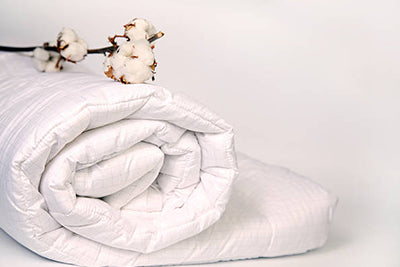 A survey carried out in the UK shows that the average person keeps their duvet for far too long; 7.6 years to be exact. This same report suggested that up to 5 years was long enough to keep your duvet before changing.
The quality of duvets vary and this also determines their life span. Since your duvet doesn't support the weight of your head or body like your pillows and mattress, the filling material doesn't wear down as quickly.
One obvious sign its time to change is if your duvet has started to loose its warmth and the filling has started to loose it fluffiness and looks flat. If your duvet filling starts becoming a bit lumpy or compressed after washing, give it a good shake. If this doesn't bring the filling back to life, then it's probably time to invest in a new duvet!
The Sleep Shop is now stocking 13.5 tog 100% cotton cover duvets in all UK sizes.
Cotton is breathable, which means you don't sweat as much.
You can make your bedroom a haven of comfort by choosing your bedding with care.,if you need any advice please free to contact me at david@thesleepshop.ie or call 086 0846501
Come and visit
Dublin Road, Ankers Bower, Athlone, Ireland
Mon - Fri, 10am - 6pm
Saturday, 10am - 6pm
Sunday, 1pm - 5pm
Directions