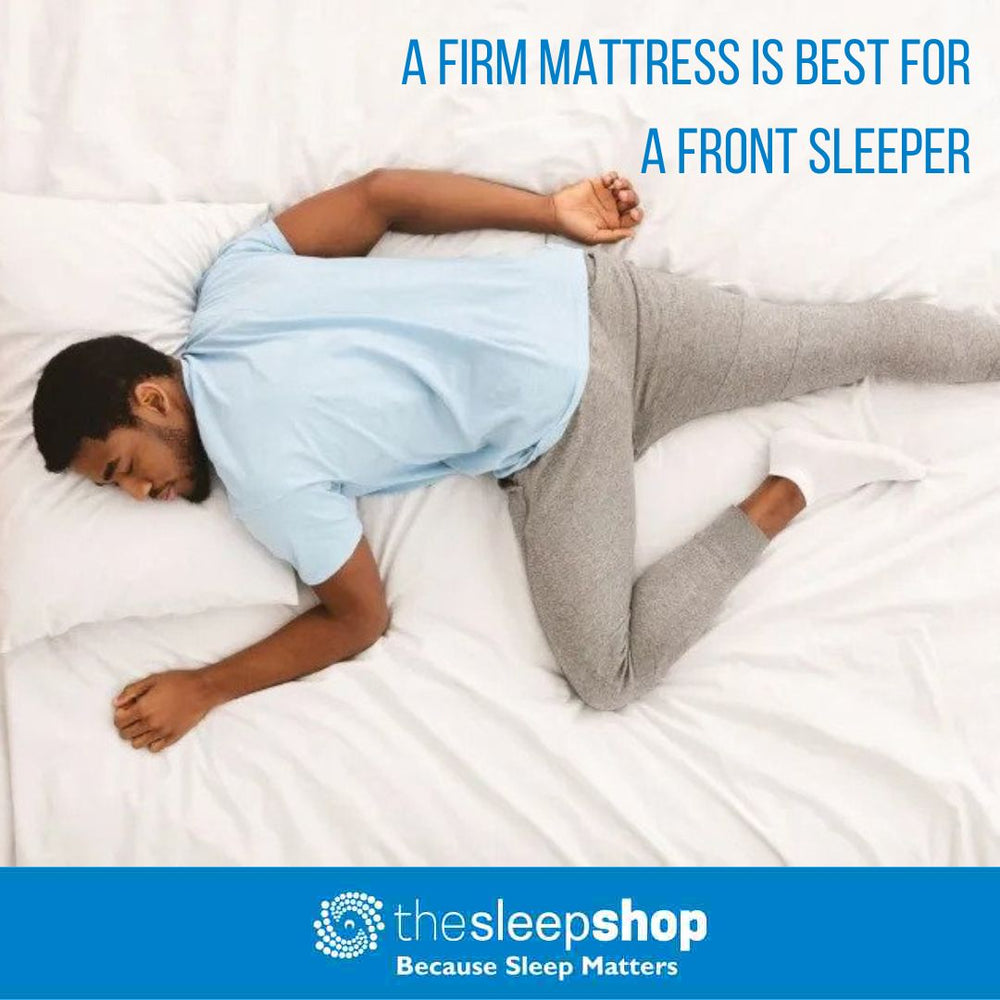 Sleeping on your front has huge drawbacks with many sleepers experiencing some type of pain. This position can place pressure on your lower back and neck if your mattress isn't providing enough support in the pelvic area or your pillow has to much loft. Our mattresses and pillows are the most comfortable available in Ireland
Sleeping on your stomach may reduce snoring or help reduce sleep apnoea issues but research has proven sleeping on your stomach is the worst position overall. We supply some of the best pillows in Ireland 
Front sleeping will place stress on your spine and in turn to other areas of the body. Unless you've somehow figured out how to breathe through your pillow, you have to turn your head to one side while sleeping on your stomach. That puts your head and spine out of alignment, twisting your neck. You will not notice the damage this will cause after one night of stomach sleeping, but over time problems will develop. The Sleep Shop mattresses will improve your posture and reduce stress ,improving your sleep. 
If you find it hard to change position, these are some tips to help make it more comfortable. 
Use a thin pillow:
The thinner your pillow is on the mattress the better, less loft on your neck or even better ,try sleeping with no pillow at all. The nearer your head is to the mattress, the less pressure you will feel. 
Stretch daily:
Stretching before bed and first thing in the morning when you rise will help you loosen up and stretch out your muscles. Soon we will be added yoga videos to our website which will provide some useful tips.
Place a pillow under your pelvis:
Similar to when you sleep on your back, keeping a pillow here will help with spinal alignment.
Keep your legs flat
Try to keep your legs as flat and as equal as possible. This should stop your spine from twisting relieving any strain.
Keep your body as aligned as possible
Relaxing your body in a neutral position. Place your hands along your side, make sure your lumbar spine and hips are straight, and your spine is not curved or twisted.
Sleeping on a firmer mattress is ideal for stomach sleepers and the pocket bio is a very suitable choice(please add link to product)
Call into The Sleep Shop Athlone for advice and view some of the best mattresses and pillows in Ireland
Because Sleep matters