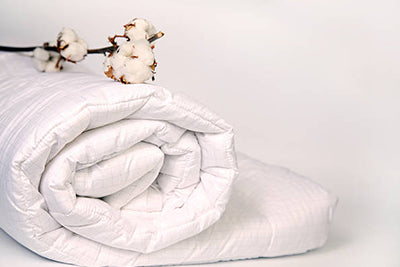 A survey carried out in the UK shows that the average person keeps their duvet for far too long; 7.6 years to be exact. This same report suggested that up to 5 years was long enough to keep your duvet before changing.
The quality of duvets vary and this also determines their life span. Since your duvet doesn't support the weight of your head or body like your pillows and mattress, the filling material doesn't wear down as quickly.
One obvious sign its time to change is if your duvet has started to loose its warmth and the filling has started to loose it fluffiness and looks flat. If your duvet filling starts becoming a bit lumpy or compressed after washing, give it a good shake. If this doesn't bring the filling back to life, then it's probably time to invest in a new duvet!
The Sleep Shop is now stocking 13.5 tog 100% cotton cover duvets in all UK sizes.
Cotton is breathable, which means you don't sweat as much.
You can make your bedroom a haven of comfort by choosing your bedding with care.,if you need any advice please free to contact me at david@thesleepshop.ie or call 086 0846501